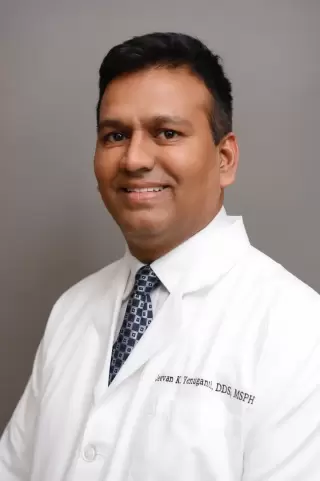 Dr. Jeevan Yenuganti, BDS, MSPH, Cert. Oral Medicine and GPR
Director of Dentistry
Dr. Jeevan Yenuganti is a native of Hyderabad, India and a resident of the New Orleans area for almost 20 years. His dental degree is from a prestigious dental school- Bapuji Dental College and Hospital in Davangere, India. He also has a Master of Science in Public Health from Tulane University School of Public Health and Tropical Medicine. He has dual residencies in Oral Medicine and GPR and Conscious Sedation Certificate from LSU School of Dentistry, New Orleans, Louisiana. For the past 15 plus years Dr. Jeevan has been passionate about providing high quality dental services to all patients especially those of underserved populations.
Dr. Jeevan's professional experience includes Dental Director for Community Health Centers in Louisiana currently serving Southeast Community Health Systems, Hammond, Louisiana. Jeevan's extensive career began at LSU School of Dentistry as an Assistant Professor of Oral Medicine and Hospital Dentistry where he was involved in various course directorships of undergraduate and postgraduate students/residents at LSUHSC School of Dentistry for almost a decade. Within that time at LSU, he also served as the Dental Director for Infectious Disease Clinic serving HIV-AIDS patients for many years.
His professional interests and research includes evidence based dental practice/oral medicine for medically complex and HIV/AIDS patients. In his free time Dr. Jeevan enjoys relaxing at home with his son and his pets. He is also a performance car enthusiast for all his life, his hobbies include playing cricket, working on DIY home/car projects etc.